Nigeria's socio-political canvas is coated with violence across all six regions of the country. This violence is most perpetrated using guns, some made locally, others imported through several illegal means.
To understand this violence, the impact on people, and how different people have adapted to it over the years, we spoke to people across Nigeria and have 30 voices for you to listen to — the voices are those of victims, actors (state and non-state), and advocates (for and against gun ownership).
You can read our long form editorial or click on the Coat of Arms below to listen to these unique thirty voices as they talk about gun violence in Nigeria
Click on a circle to listen to stories of 30 Nigerians on gun violence.
Sa'adatu Abubakar
50 years old, widowed by gun violence in Maishanu village in Niger State, North-Central Nigeria.
Gun violence experience
I lost my husband to bandits. When they attacked our community at night, my husband was sick and was sleeping inside his room. He was suffering from a leg ailment, so he couldn't run.
But he told me to run away with the children. At first, we refused to leave him behind, but he insisted. Finally, we left. When we returned to the village after the bandits had left, we found that he had been shot dead.
The children saw him dead and were traumatised. The bandits killed everybody they found in the village. They came in large numbers with their guns.
Appeal
I believe this will stop if the government can control people from holding guns. You see, many of them are young boys. If they do not have these guns, they will be powerless.
People can even bring them down bear hand. But with the guns in their hands, you will see older people running away from somebody young enough to be their child or grandchild because he is holding a gun.
But if the government can control where they get these guns from, the banditry will end.
Many indulge in banditry because their parents cannot talk to them. This is beyond the government; the parents are responsible for controlling their wards. The government is trying its best.
I can't say whether people from our village are among the bandits because they don't show themselves. They have not caught them to see whether they are village members.
Musa Sulaiman
Gun violence and terror attack victim, Kebbi State, Northwest Nigeria.
My son was among the students kidnapped last year from Federal Government College Birnin Yauri.
Will you say this happened as a result of arms proliferation?
When you look at other countries, people are allowed to buy personal guns, but it is different in Nigeria. Only people in high positions and people that are rich hold guns. And that is why they do what they do.
Assuming we are all allowed to hold guns, I don't think bandits and kidnappers will dare us. The only thing the bandits have to terrorise people is just the guns. If not, they can't dare us.
But you know, if everybody is allowed to hold guns, law and order will break. This is the danger of it.
Do you think vigilantes and security personnel have the power to stop banditry and terrorism?
The vigilante doesn't have the kind of weapons that the terrorists have; the government doesn't give them such weapons, so they can't fight the terrorists.
Are you saying the vigilante should be given sophisticated arms?
What will stop the government from arming the vigilantes like terrorists? How can government solve this problem without allowing vigilantes to hold the same kind of weapon as the terrorists?
These terrorists are well known. Whatever kind of weapon the terrorists have is not more than what the government has or can get. Allowing vigilantes to hold guns is one of the means to solve this problem.
But there will be another problem if the vigilantes can hold the sophisticated guns because they can use them anyhow. But government can design a way to control the wrong usage.
If the government does its work, you don't need to get a gun to defend yourself. Government cannot defend the citizens, which is why people are agitating to hold guns to defend themselves. The government is not doing the right thing that is why.
Maimuna Salihu
Gun violence victim, Niger State, North-Central Nigeria.
Impact of gun violence on the respondent
My husband is dead. He was killed by bandits. They (the bandits) met my husband inside his room. He was inside his room together with his wives when they came in. They ask him to give them full cooperation and support, or they kill him.
But he refused. He said he will not support them or cooperate with them in what they do unless they will kill him. There and then, they killed and butchered him with bullets, like a bush animal. The children entered the room and saw the way their father was butchered.
Later, those children suffered psychological trauma, and we suffered a lot to get them medicine that would make them well. All these happened about three years ago.
My village is Magami. That is where I was born and lived with my husband. But nobody is in that village as we speak. The first time they invaded us, was at night. I lost my mother, my two younger sisters, my husband, and my elder brother due to banditry.
My elder brother, that used to take care of us, was killed. He was on his motorcycle when he was stopped and killed.
Measures government should take to limit gun violence
I don't know. Do we even know where these bandits come from? We don't know where they come from, but they invade us at night. We just pray that we see the end of this soon.
Do we even know the kind of measure we can take? It is only the government that can take measures against them, and it should do that.
A link between gun violence and parental upbringing
Any child that follows the good character of his/her parents won't do this kind of thing [banditry and terrorism]. We can say the fault is from the parents, but when you look at it critically again we can say some of them just do what comes from their minds.
And in that case, may God deliver them. Anyone who is not doing the right may God deliver him/her.
Wat the future holds
We are ready to go back to our community if security personnel can defeat the bandits. And they can only do that if they are given the right weapons because the kinds of weapons in possession of the bandits are not small ones.
They are not those that will fire just once and go silent. They go sporadically, and that is how they kill plenty people nonstop. The guns in the hands of our security personnel are no match to that of the bandits.
But if the government can give the security personnel the same kind of weapons as that the bandits, I believe they can defeat them. Many of the security men are trying their best he will be able to defeat the bandits.
Laura Mohammed
Widowed and displaced by Boko Haram in Yobe state, Northeast Nigeria.
Laura Mohammed, a mother of two, became a widow about 8 years ago when her husband was killed by suspected Boko Haram terrorists during an attack on Damaturu town in Yobe state, northeast Nigeria. Her spouse died when a bullet fired from a terrorist's gun hit him on the neck, destroying his jugular vein. Since then, the young woman, now in her early 30s, said she has continued to live alone with the trauma.
Impact of gun violence on her.
It has altered my life and happiness more than you can imagine. The impact is like the walls of a household falling around you.
How prolonged gun violence makes her feel.
I'm trying to get used to it. But the next gunshot still leaves you worried and fearing for dear life.
How do guns make her feel (safer or scared)?
In the past, the sight or sound of a gun scares one. But presently, things have improved a bit. For example, if we hear the sounds of guns now, we are sure it is the military trying to protect the town from attack or there was an attempted attack that was repelled.
Safety (more guns or fewer guns)?
I doubt if guns protect anyone in this era of violence. Suppose it was in the past when there was relative peace. But with the improved peace now, I'll say one still feels relatively safe.
Dealing with the impact.
It has left me widowed. And feeding my kids has been the wonders of God almighty. I do petty trades, which has not been stable due to a lack of capital because one has to feed from the business.
Jummai Inuwa
A Humanitarian worker abducted by ISWAP terrorists.
Bio: Jummai Inuwa is a female humanitarian worker who escaped the terror group ISWAP in April 2022 after spending 18 months in captivity. In this interview, she explains how gun violence - a major signature of terrorist groups, has affected her life.
00:00-00:40
It makes me feel scared at first. And because it has affected my eardrum, especially when the sound [from people] is at close range, the sound pierces my eardrum and I will start feeling the pain. But as time goes on, I [am] feel[ing] normal.
Even here in Maiduguri, I hear the sound of guns. Sometimes, when I have nightmares, I will just be remembering all those sounds. It has really made me feel bad.
00:41-01:46
I feel safe without guns here because people with guns are being abducted, kidnapped, and killed. Their rifles and guns were being collected in my presence. If holding guns would make someone safe, I think the military personnel would be safer than anyone else; but rather, they are the victims.
So I don't feel safe because someone is holding a gun. Right now, maybe I'm travelling and this escort of a thing… I prefer even travelling alone to going with escorts because I don't feel safe because you are holding gun or because I have a bodyguard that is holding gun. In Nigeria here, I don't feel safe - maybe in another country, but here, no.
01:46-02:21
Before now, guns made me feel safe. I remember then during post-election violence in Zaria (in Kaduna state, northwest Nigeria) we would run to [the] barracks for safety. Even though I was scared of guns anyway, but that was then.
02:21-03:13
It has reformed me now. It has changed everything. My perception of gun then …will I even say I had a phobia for guns? I have this shop. Whenever a military personnel comes to my shop and he's holding his gun, I will be like 'oga, please softly, softly.' I [will be] so scared.
Sometimes they will be playing with me, and I will say 'ah, no no, I am scared." Sometimes I will run upstairs and someone else will attend to them. But now it has changed the way I see gun. I see it like toy. I am no longer scared of guns. I am not scared of it.
03:13-03:56
Well, it made them [the terrorists] feel this authoritative… you know whenever you have guns, you have power. So they [ISWAP] feel fearless, they feel bold.
Anytime they go out to war, when they come back, they will be shooting and disturbing the area. Shooting guns randomly, jubilating, and making some noise.
03:56-5:04
It affected me directly because it caused me to have ear problems. I have been treating it for over two years and I am still battling with it.
As I said earlier, when we tried to escape, and we could not make it, we surrendered ourselves to [the terrorists], and on our way back to our location, they placed the nozzles of two of their guns on my forehead and shot side by side and that affected my ear drum.
Not that I cannot hear, but I have this pain, especially during the cold season or if I expose my ear to air. I [often] cover it with cotton wool [to reduce the impact of the breeze on the eardrums.]
How she tried to deal with the impact of gun violence.
5:05-6:04
Well, I will deal with it by getting used to it... It was a daily routine [gunshots in the terror camp] and it became part of me. Any day I don't hear the sound of guns, I have to make enquiries asking 'where are these boys, are they not around or have they gone for their war?'
And when they are back you will be hearing sound, [of them] shooting here and there. It became part of me by fire by thunder. So I just had to accept it.
Halima Mohammed
Displaced by Boko Haram to an IDP camp in Borno state, Northeast Nigeria
Gun violence experience
Halima Mohammed has been living in an IDP camp for eight (8) years, following an attack by Boko Haram terrorists on their community, Modube in Gwoza local government, Northeast Nigeria.
Impact of gun violence on her.
We saw hell when Boko Haram invaded our community.
They were with guns everywhere, and we had nowhere to run but flee to this camp. It was God who saved our lives on that fateful day.
It was dangerous to sneak out of the town during the day, so we had to wiggle out at night. We are from Modube in Gwoza local government area.
They shot and killed many women and children and burnt houses. Many of my family members were killed. Many people had gone missing.
Dealing with the impact of gun violence.
Life is tough here in the camp compared to what life was in our village. Hunger and lack make living here tough.
If guns are taken away from the hands of insurgents, we can say peace has returned, and many would love to go to their ancestral homes.
How guns make them feel (safer or scared).
We hope life will be better with fewer guns in our society. Our community, Modube, is still in the hands of Boko Haram.
Hajja Bintu Husseini
Widowed by Boko Haram conflict in Northeast Nigeria.
Hajja Bintu Husseini, a widowed mother of four (two boys and two girls), lives in Maiduguri, Borno state, Northeast Nigeria. She lost her husband during an attack on motorists by Boko Haram terrorists along the Kano-Maiduguri highway.
Impact of gun violence
I lost my husband while he was trying to run for his dear life when Boko Haram attacked travellers somewhere near Potiskum along the Kano-Maiduguri highway. He was shot with a gun from behind as he jumped out of their vehicle and began to run into the bush. He bled to death.
Now I depend on the little business of fried yam sales to take care of my four children. No one is helping me to raise the children. I pay for their school fees, books and uniforms from the little I make in my business.
How guns make her feel (safer or scared)
Guns were a major source of fear for me at that time. Its sight still traumatises me. It is a means of protection when put into proper usage.
Guns are used positively by security operatives to defend themselves and others. But it's not put to the same use when it is in the hands of others.
How she had tried to deal with the impact of gun violence on her family?
I was a happy woman with peace of mind when I was with my husband. At the moment, I am nothing close to what describes a happy woman because I have to struggle to fend for myself and the children. No one is helping out concerning the welfare of my kids. I am in a state of distress, and I can't pretend about it.
How they can be made to feel safe without guns (or with lesser guns)
When I see guns they remind me of how my husband died. It was the cause of my husband's death. It makes me feel unsafe.
Habiba Umar
Mother of 10 who has lost loved pnes to violence in Yobe, Northeast Nigeria
Habiba Umar lives in the Nayinawa neighbourhood of Damaturu in Yobe state. The mother of ten children has lost a daughter in a bomb blast that occurred at Damaturu commercial motor park.
As a survivor with many bitter tales linked with gun violence, Habiba said the armed conflict had stolen her joy and inner peace.
Impact of gun violence
God has blessed me with ten children in my marriage, some are in schools, some are learning some violations and I lost one, a female in a bomb blast that occurred at Damaturu park some years ago.
Did you find her corpse?
Yes; I went to the mortuary by myself to fetch her corpse.
How she tried to deal with the impact of gun violence on her family.
We have been here in Damaturu during the peak of the gun violence…(she sobbed)... but I lost my husband. He performed his ablution in preparation for the late afternoon (Al-asr) prayer and then left for the mosque.
Then suddenly the town came under attack and since then he never returned home till date. We have no information on whether he is alive or dead. Only God knows best.
How prolonged gun violence makes her feel.
It's been very scary. Many times one finds it difficult to leave home. Sometimes we spend days indoors. Most of the time, the attacks occur at night and my children and I would cringe in fear and keep vigil for as long as the shooting lasted.
Sometimes we had to ask the male children to run to the bush in the opposite direction of the shooting so that the insurgents wouldn't come to drag them away.
My teenage son had, in one incident, attacked his kid brother as they kept running all through the night till they got to Babbangida town (56km north of Damaturu). When they eventually returned home, the boy collapsed and remained sick for many days.
How guns make her feel (safer or scared).
I always have my heart thumping as though I would die each time I hear the sounds of a gunshot. You won't want a male child to be found at home; you have to quickly sneak the boys out, lest they abduct them and take them away.
How she can be made to feel safe without guns (or with lesser guns).
I am better off now compared with the days of gun shootings. We give thanks to God, we are a bit safer now that there has been less presence of guns. But the trauma persists.
Sometimes one would find it difficult to sleep at night whenever the memories gush back. The trauma worsens when you hear the stories of missing or abducted persons returning home or rescued from captivity.
Emma Chiboroma
Police Brutality victim, Lagos, Southwest Nigeria.
00:00-00:24
The impact of gun violence on me was tough because I could not sleep for a month and three weeks. I just thank God that I am alive today.
00:33-01:15
It wasn't easy [...] I treated it medically, and I treated it locally. It's a gunshot, it's not an easy thing. [...] [After] they [Police] shot me, they took me to a private hospital [...] then I travelled home to my place [of origin (Rivers State)] to meet a specialist in gunshot.
01:40-01:55
The way I am walking now is not the way I was walking before they shot me. I feel bad about it, but [...] I just thank God [...] because so many people have gone [died] through that way [gunshot].
01:55-02:28
The way Nigeria police handle guns is bad. These guns are not meant for individuals like us. They are meant for criminals […] bad people, it's not for innocent citizens like us. They should train them well on how to handle guns. They were just shooting [sporadically].
02:28-02:48
Due to the pain I pass through, if I see a gun with anybody, I will shift from that place. Because I have seen the pain [...] I have seen how dangerous and bad it is. I don't even stay close to the gun anymore.
02:48-03:16
Government action can create a safer environment for the citizens if they want because they have the power to do anything. All the power belongs to them. If they overlook it, society will face it [the impact of gun violence].
03:16-end
During the time of the gunshot, my family were in Port Harcourt [South-south Nigeria]. It wasn't easy. I was just here alone in the hospital. They couldn't come because the journey was too far. [...]
I was working at Petro-chemical in Port Harcourt before they said Corona [COVID-19] had come and that everybody should go home and after Corona, everybody should return. Then I came to Lagos to work, and along the line, they said #EndSARS.
From that #EndSARS now, before they could end SARS, they shot me. From there, I was in the hospital. When they called me back to work, I couldn't go. That was how they terminated the contract [...] I really, really suffered.
Edwin Augustine
Police brutality victim, Lagos, Southwest Nigeria
00:00-00:34
I became a [gunshot victim] during the Oct 20, 2020, protest at the Lekki toll-gate. We went for a peaceful protest on the [Police Special Anti-Robbery Squad] SARS brutality on citizens. All of a sudden, they unleashed the gunmen (soldiers) to shoot at us.
00:35-01:04
I came to Lagos in January for my one-year IT [Industrial Training], and I ought to go back for my HND [Higher National Diploma] before I got shot. [The gunshot] slowed down my education; it cost my dad his house so he could raise money to take care of me during surgery.
It caused me pain. Even the little business I was trying to set-up… it cost me a lot… me losing my baby mama to another man.
01:04-02:15
My dad sold his house in Ogun state just for him to raise money for my medical bills when I travelled down to the village… that was after six months since I was shot.
I travelled on April 1st, 2021, while attending the court [for #EndSARS panel] and also going for check-ups at LASUTH [Lagos State Teaching Hospital] and Ikeja General Hospital before I decided [to return home].
The option they gave me then was to amputate, and there was no other option than to amputate the leg. And the bullet was still in me for more than six months, causing damage, giving me waist pain, and my leg was swollen.
That was when I travelled to my dad at the village in Ebonyi state, then we came to Ogun state to sell his house to raise money. A retired Policeman, he sold his house to raise money for my surgery and my medical bills.
02:15-03:20
If I'm to estimate, it cost [...] a million plus [...] and I have been feeling bad, I couldn't discuss the issue [cost of treatment] with him.
03:20-4:10
I have been able to deal with the impact. Sometimes friends do keep me company. Later, I [went] back to the business. I can't go back to school to finish my HND at Akau Ibiam Polytechnic in Ebonyi State.
Now that it is even rainy season, I have been trying to deal with the cold. And where the bullet passed through has not even healed up, and where the implant was fixed…
04:18-05:09
These people are trained personnel, but if there should be gun reform [...], they should look for a way to fix that. Lately, when I see guns, I don't feel safe. It's just a touch [to control] and nobody knows who is next. So, I try to stay far from any security personnel as much as possible.
05:12-05:33
I won't say people that are assigned to carry the rifle not to work with them... Because they are meant to secure lives and properties but they should work with it at their duty point and try to keep it safe, lock it and check it over and over again and face it away from humans.
05:33-end
My experience since [...] 2020 has been hell. The government has neglected us [...] Since then, I went to court for more than six months and have nothing to show for it till now. I have been trying, my parents have been trying because that is an unexpected cost.
I stand [in] solidarity to protest and speak the truth, and speak for those, my friends whose legs got amputated, and the dead ones.
Prof. Mahfouz Adedimeji
The Vice-Chancellor of Ahman Pategi University and former Director of the Centre for Peace and Strategic Studies, University of Ilorin.
What is the role of citizens in curbing gun violence in Nigeria?
Certainly, gun violence is a menace that must be curbed in Nigeria for our collective peace, sanity and security. Gun violence by non-state actors accounted for at least 8,372 deaths in 2021 and some 6,566 Nigerian souls were lost to the menace between the first six months of this year.
The citizens make up the society and the society begins from the family unit. That's the starting point. Children are born with tabula rasa (empty slate), it is the society that teaches and indoctrinates them on what they eventually become.
One major problem is that there is poor parenting syndrome in our generation and we have to work on it to regain our lost good social order.
The home is the first school that children attend but many parents don't create time to teach their children values, virtues and ethics any longer as everyone in running like a hare in pursuit of lucre or money. Children should be taught that violence is wrong and ungodly.
A simple strategy is to have a policy that you don't beat your sibling, you report him/her. You don't expose children to violence in the guise of entertainment in games, sports and movies.
Apart from the family, the school also has a role to play and teachers should lead by example. Violence begets violence and teachers should, just like parents, not introduce students to materials that glamorise violence. This is why cultism must be extirpated from the school system.
Then, the mosque or the church has many roles to play in teaching citizens the ways of God. Anyone who understands the values and virtues the Quran teaches and the biblical virtues would be loving, empathetic, kind, considerate, compassionate, generous and good to others.
The person would know that harming others, hurting or attacking them is a sin punishable by God. No one who knows the implications wants to draw the wrath of God.
Peer groups, clubs and organisations that citizens belong to also have roles to play in making them realise the evil of violence, wickedness and crime.
With over 10 million illegal weapons in Nigeria, the task of ridding the country of violence cannot be left to formal structures, such as the National Centre for the Control of Small Arms and Light Weapons (NCCSALW) established by the Federal Government last year alone, all citizens have a role to play at all layers.
From our discoveries, many Nigerians are picking up arms to protect themselves. How can the government earn the citizen's trust to keep gun violence minimal?
The magic wand is good governance, which the World Bank simply defines as "the manner in which power is exercised in the management of a country's economic and social resources for development".
Good governance relies on participation (not discrimination against or alienation of others in governance), rule of law (not might is right), accountability (not it's our turn to steal, wait for your time), transparency (access to information and monitoring of institutions), consensus building, responsiveness, justice and fairness, equity, effectiveness and efficiency as well as strong vision.
The Mo Ibrahim Foundation identifies the key components of the four categories of good governance in Africa as a) safety and rule of law (rule of law, accountability, personal safety and national security),b) participation and human rights (participation, rights and gender) c) sustainable economic opportunity (public management, business environment, infrastructure and rural sector) and d) human development (welfare, education and health).
Is there good governance in Nigeria? The answer is stark! When citizens realise that government is caring and leaders are honest, there will be trust. But in a situation where there is a breach of social contract between the government and the citizens, people will not trust government.
You see, according to the Nigeria Security Incidents Tracker by Beacon Consulting, 7,222 Nigerians were killed and 3,823 others were abducted between January 1 and July 29, 2022.
In a situation where state officials and government structures are involved in ransom bargains with kidnappers, the message to the citizens is that government is helpless, if not an accomplice, and they have to take their destiny into their hands.
As I earlier said, good governance is the key to gaining citizens' trust. In the South East, when non-state actors declared a sit-at-home order and people who ventured out were attacked, citizens understood who to obey.
When terrorists in the North East defy the military and engage in mass murder, they pass the message across that they can do and undo Besides, when you know that the justice system would not support the poor or the weak, you have a tendency not to trust it. Nothing ensures trust and assures citizens than good governance.
Perhaps, as an expert, do you think gun proliferation can curb Nigeria's insecurity as our security forces are increasingly overwhelmed?
The proliferation of Small Arms and Light Weapons (SALWS) cannot curb our insecurity. Rather, proliferating SALWS exacerbates it. More than 45,000 American died in 2020 alone due to gun violence.
The current and correct thinking is that there should be gun control and the Democrats, who are in power in the US, have been known to be almost unanimous in their support for stricter gun laws. Guns are not toys and if you have them, you will be tempted to use them wrongly or at the slightest provocation.
It is like distributing condoms to young people in the name of curbing STDs, you are indirectly encouraging moral degeneracy. Whatever your motive is, you are nudging them to use it as they are not artifacts for museums.
Albert Einstein was profound when he said, "We can't solve problems by using the same kind of thinking we used when we created them." The Chinese General, Sun Tsu, author of The Art of War, said that it is more important to out-think your enemy than to out-fight him.
Part of the findings in the book, Managing Violent Religious Extremism in Fragile States: Building Institutional Capacity in Nigeria and Kenya, co-written with my colleagues and published this year by Routledge, UK, is that ensuring security is not just through kinetic means that we are so much obsessed with. It is about focusing on non-kinetic means or winning the hearts and minds of the radicals and criminals.
I did a study few years ago in which I canvassed the need to secure weapons and not to weaponise insecurity. What I meant is that instead of throwing weapons at insecurity, what is needed is to secure weapons from falling into the hands of non-state actors and focus on human development.
Human development is multi-sectoral; it includes economic, food, health, environmental, personal, community and political security.
In other words, we should provide employment and guarantee citizen's economic security; we should make food available and have fewer hungry and angry citizens; we should provide affordable health services so that people are no longer emotionally charged as a result of losing their loved ones to avoidable health challenges; we should protect the environment against diseases; we should attend to the welfare and personal needs of the people; we should guarantee community security and we should remove toxicity from politics, detaching it from religious and ethnic sentiments.
It is by doing these that we shall reap their multiplier effects in fruits that will produce the vitamin for a safe and secure country.
Think about it, when people like us were growing up in the 70s, the only security apparatus we knew was the Police Force. We were better off security-wise and we could sleep with both eyes closed.
These days, there are many security apparati, the formal and the informal types and you can name them, including private security companies and vigilantes all with some weaponry. What is the result? The civil space is encroached and violations and violence multiply.
Insecurity is a symptom of a disease, which is bad governance. If we use the human development approach and entrench good governance, we shall achieve security without firing a shot. Proliferating weapons would lead to multiplying violence.
Prof. Shared Aderinto
Professor of History and African and African Diaspora Studies. Department of History, African & African Diaspora Studies Program, Florida International University.
The proliferation of guns in postcolonial Nigeria, as elsewhere in Africa, can also be explained in terms of the changes in the physical and political geography of the world following the collapse of European imperialism after World War II.
In the first half of the twentieth century, European nations respected mutual agreements about the international sale of prohibited firearms to their colonies.
But after granting independence to their former colonies, they flooded the continent with weapons of war in the global struggle against Soviet influence, supporting one armed group against another during civil wars and other Cold War–inspired conflicts.
Lack of proper disarmament and demobilization after each major domestic conflict meant that firearms remained in circulation decades after wars and were recycled for use in subsequent strife.
Thus, firearms used to prosecute the civil wars in Liberia and Sierra Leone easily made it to Nigeria through elaborate trafficking networks, coordinated by notorious cartels and corrupt law- enforcement officers close to the main levers of political power.
Trafficked war weapons, including assault rifles, such as Kalashnikovs (especially AK-47 varieties) and the newer Chinese-made Norinco Type 56s, light machine guns (e.g., Norinco Type 80s), rockets, tanks, ground-to-air missiles, and even fighting jets have been used by nonstate actors and groups across Africa to prosecute secessionist and terrorist agendas.
When the Nigerian army was indigenized and transformed from a colonial security force to an independent armed force in 1960, many of its firearms were appropriate only for dealing with domestic conflict. This prompted the government's establishment of the Defence Industries Corporation of Nigeria (DICN) to produce arms for the country.
Yet the quantity and quality of weapons produced by the DICN were inadequate to prosecute the war against the secessionist forces, which took a decisive turn on August 17, 1967, when the Biafran Army, under the command of Colonel Chukwuemeka Ojukwu, invaded Ore, 135 miles from Lagos, the nation's capital.
The Nigerian and Biafran armies accumulated large stocks of weapons from "friendly" nations from Europe and other parts of the world.
When the Biafrans' newly acquired B-26 bomber flew to demonstrate its might, to the bewilderment of the Nigerian army, General Gowon turned to the Soviet Union to acquire twelve reconditioned MiG-17 fighters and another twelve trainers—he had been turned down by Britain, which claimed that such weaponry was too sophisticated for Nigeria.
This singular act brought the Nigerian Air Force, established in 1964, into a combat-ready status. The federal blockade of supplies and restriction of its finances led the Biafran army, through the innovation of scientists and engineers, to produce firearms locally.
Among their newly invented arms was the popular Ojukwu bucket, or Ogbunigwe (meaning "mass killer"), which was made in different sizes and shapes for use as hand grenades, rocket-propelled and ground-to-air missiles, or land mines.
Ojukwu's men also built five MFI-9Bs, nicknamed "Biafra babies."39 By the time the last shot in the Civil War was fired in January 1970, about a million Nigerians had lost their lives in the thirty-month-long carnage, made possible by the advancement and maximum deployment of technologies of violence.
The assumption that the legal possession of firearms would lead to escalation of violence has no historical basis in Nigeria. In fact, more Nigerians legally owned various classes of nonprohibited guns (both legally and illegally) in the colonial era than in any other period of Nigerian history.
Yet the ferocity of gun violence in colonial Nigeria was less than what obtained after the demise of imperial rule. The reason for this is not hard to see.
The main success of colonial firearms regulation was the ability to prevent most Nigerians from having access to truly lethal arms (e.g., rifles, submachine guns, dangerous explosives) that could undermine imperial rule and public peace.
Conversely, the virulence of armed conflict in postcolonial Nigeria is attributable in part to the failure of leaders to effectively police the country's international borders and control access to weapons of war by criminals, terrorists, and other people who pose a threat to political stability.
In a broader context, the story of gun violence after independence cannot be dissociated from the crisis of development and nation-building.
Oke Ridwan
Human Rights Lawyer and anti-police brutality advocate, Lagos, Southwest Nigeria.
Do Nigerian Laws protect citizens from Police brutality?
Yes, Nigerian Laws are protective, but the fact is that there is no enforcement. There are several Codes and Rules that regulate activities of Police officers in Nigeria.
But the problem is that the system always ensures to protect erring Police officers unless the case goes viral [...] or the person involved is well known or has people who can demand justice on their behalf.
Even if some of these cases are reported, they are not properly attended to [...] the force is not 100% ready to purge itself of erring police officers. So when Police officers realise that 'we did this and nothing happened,' they will continue.
And that is the problem. You will realise that some of their top officer [...] are the ones sending these boys out to extort people. Nigerian laws are protective of citizens against policemen who abuse their guns, but the problem we've been having is accountability and enforcement.
What is justice for murdered victims of police brutality?
Justice means different things to people. To me, justice might mean getting the policemen that murdered [...] convicted, and they get the appropriate punishment for murder. To some other persons, it might be compensation. To some, it might be both.
Personally, I believe if a Policeman has been found guilty of killing innocent persons, such an officer must be dismissed from the Police force [...] such an officer must be tried by an appropriate court of competent jurisdiction [...] the punishment might be life imprisonment or death by hanging as the case may be.
What will serve as justice for the killed: the state must ensure that the officers involved are dismissed [...] tried and convicted. They must also ensure compensation for the victim, there must be an acknowledgement that [...] so-so-so person was killed by so-so-so officer and such death was a wrongful death.
When you acknowledge that the policeman has killed this person, it brings a bit of resolve. It will [make the relatives feel that] these people care about us; there has been an acknowledgement and an apology. Then we've been compensated, and the officers involved have been punished in accordance with the law.
That will not bring the person that was wrongfully killed back, but it will provide some kind of respite for the families who have to live without their loved ones.
What should happen to policemen who abuse guns?
Policemen who abuse guns: such Police officers should never be allowed to hold a gun again, and such persons should never be allowed to wear the uniform again. Because if you abuse your gun, there is a very high likelihood that you will do it again when you are not punished.
Because if you are punished, you won't be holding the gun again, or you won't be wearing the uniform again. The most important power that a police officer wields against citizens is a gun, and once you abuse it, you are not fit and proper to hold that gun or wear the uniform again.
So, policemen who abuse their guns should be tried and dismissed from the force, and after they have been dismissed, they must be tried in a court of competent jurisdiction for their various offences, and the court must ensure that justice prevails.
Dr Danlami Mohammed
Sociologist and lecturer, Federal University Gusau, Northwest Nigeria.
Guns go to individuals not police, most of the guns our Yansakai possess are local guns that are locally made. They are not modern guns. They are mostly produced in Niger state, at the rate of N80, 000 to N100, 000, sold to various vigilante groups and individuals.
Proliferation of deadly firearms goes directly proportional to the occurrence of these menaces. Locally made guns are determined by the increase in attacks launched by Terrorists and bandits gangs. This is usually occasioned during farming season.
Our king Banaga and some Fulanis deserted from Murai, our village due to the insecurity situation of the area. I already observed that anytime he called me in the night time, there must have been an attack launched in the area. This I quietly observed on three different occasions.
Look, I have no confidence in the military. I lost hope for them in their role in securing this country. I once sighted some policemen hiding their official car parked in some grasses some metres away from the main road near Gidan-Kano village at a bandits' popular route.
They were there at the bandits' meeting point to either collect their share, or exchange for guns or anything else, but certainly not for protecting people.
The question of ethic clash, ethnically this issue is multi-dimensional. There is pure ethnicity in the ongoing banditry in Zamfara State. These are my reasons:
Most of the residents that are attacked are Hausawas; most of the criminal gangs carrying deadly arms are Fulanis, innocent Fulanis do not carry guns to protect themselves against their fellows.
*Tamuno Priye
Anti-gun advocate in Bayelsa State, South-south Nigeria.
The word gun. [The] three-letter short word, gun. The meaning is [that] if it touches you, you are gone. That is just the name gun. If you hear the sound, then it's not for you, but if you don't hear the sound, you are gone.
Anybody that is in possession of [a] gun as it is called, has this different kind of spirit that is possessed in it [the gun]. I cannot be armed and you challenge me in a manner that I would not like. Even if I don't want to use it, out of shame, I can kill somebody and want to face the consequences.
You saw what happened at the PDP primaries in Ogbia Local Government Area [...] in Bayelsa state.
The day the People's Democratic party were holding their primaries for the House of Representatives [...] in that zone, in day broadlight a young man brought out the gun and shot a fellow young man for no reason over someone else's ambition. That is the spirit of the gun in him.
So I think allowing people to possess this gun… not only that, what about those of us who are living in our houses? We see armed robberies everywhere. Some charlatans, small, small boys will just bounce your door, sweep the whole of your house because they have gun. It's a common thing for these people to have.
Or is it people that go with Keke [tricycle] in the evening, they just target you, before you know because of one cheap handset [phone]... there is this young man I saw him [...] they shot him [...] here in Bayelsa state. They stopped the Keke, point[ed] to the man to bring the phone.
The young man was trying to run away from them. The next thing he was shot. But by the grace of God, he did not die. So I think there are serious effects to it [gun ownership] that if you allow people to possess a gun, you will not sleep at home. Even these security agencies are not safe too.
Gun violence is always brutal. Like I said, when a nonstate actor. Somebody who is not trained to carry firearms is in possession of firearms. What [...] comes into his mind is illegality as far as I'm concerned. To use it to oppress and intimidate the next person because he's not going to use that ammunition for hunting or for any gaming.
The law allows you a license to own the pump-action, and even that pump-action you are permitted by law to own is only for gaming.
Not as if you are using it for self-protection. It is for gaming, hunting. That's what the law prescribes. So, if any other person that is not trained is having a firearm, if you look at the Criminal Act [...] there is an act to that effect [Firearms Act] [...] if you are caught, you face the criminal prosecution. That's how I look at it.
So we must do something to see that this thing is minimised. Otherwise, the rate at which we are progressing... Unlike before, initially, it is difficult for you to see a man with a pistol or a gun. But today is just the common-nest thing you can see [...] So I don't know, we should regulate it.
There is a law to say you should not carry. And more so, before I forget, I want to seriously say that the pronouncement of Mr President with regards to anybody that is caught or seen with any firearms that you are not authorised to, he said, 'shoot-at-sight'.
So what [are] the security agencies doing? So, anybody they see like that, I'm of the view that the 'shoot-at-sight' should just [be enforced].
Even in the US, where ammunition [is] legalised, today, it is becoming a trouble to them that they are looking at visiting the law to say that people should not possess firearms any longer.
Even if you do, there should be a licence for it, or there should be the calibre of ammunition that you can possess, not like before, that you can just walk into any of the shops where they sell guns and they don't mind the age you are.
You just go there, pay money and own a gun. That's America for you, they are thinking of regulating it because of the dangers they have had.
A young man that went to the school to shoot people, it was because he had the gun in his possession. He just went to his father's drawer, has a gun there, and he's allowed to go with it.
So if America will be regulating possession of firearms, then I think for us here, although the law does not permit you [...], you are only allowed to own a pump-action for hunting.
But since America [has now] legalised it, because every small thing we want to say, they will say 'leave it. Even in America, it is done too.' I hear people like [...] Olabode George, [...] Theophilus Danjuma, advocating that people should carry guns […] even the Governor of a Northern state was advocating for people to be allowed to carry guns.
And I wonder how Nigeria would turn to if we are allowed to carry guns. Nobody will be safe [...] So I will not advocate for people to carry guns for purposes of self-defence or whatever. Let us say allow the state actors, the people that are trained for it, to handle that job. But for us, don't do it.
Babakura Bukar
Peace and Conflict Studies and Disaster Management scholar.
00:19 - 01:05
One of the ways through which the government can make people safer is to invest in education. We have to educate people as regards the dangers of small arms and light weapons that are being transported into our country, particularly, through the Sahelian axis, through Niger, Cameroon, up to Libya, Syria and beyond.
The focus of educating the people should be on those living in the communities around the border areas through which these small arms and light weapons are being smuggled into the country.
00:48-01:21
When people are aware of the dangers and enlightened on what types of moves they should be suspicious of, people are also aware of their responsibilities as citizens, and the need for cooperation with the security agencies, by providing them with factual information that will ensure that communities and people are safe.
01:21-01:42
And another way is the issue of smuggled arms that are already in the country. Some of these arms may be sighted by some of the community people in the hands of the non-state actors…what they should do and who they would report to is very important.
01:42-02:01
Apart from that, there are other related issues of IEDs and explosives. A lot of them are used in various communities, especially in the northern part of the country and particularly in northeast Nigeria, the northwest and north central.
02:01-02:30
What efforts are being made to enlighten people on the effect of these explosives of which some are used by stage actors and non-state actors? On these types of weapons being used, some may be abandoned in communities, in the farms, in the bushes and so on. So we have to enlighten people on what they look like and what they should do when found.
02:30-03:44
Even recently, there was an incident that was a classic example with some children playing with a live explosive, which later detonated in Gamboru Ngala.
So, in this case, there is a need for de-minding, which is very important. And apart from that educating the communities is very crucial in de-mining, which also can be done through collaboration with some of the NGOs, like the Mines Advisory Group - MAG, they are very key in the issue of demining; at the same time, the Danish Refugee Council, have one of the best-demining wherever they operate, and Danish is physically present in Nigeria apart from the UN Mines agency.
So there is a need for active collaboration between the UN systems agencies, the iNGOs and the local NGOs partnering with them. People need to be educated… especially now that they are returning to their original communities.
03:47-04-43
Another level is the issue of borders. Nigeria is almost a borderless state, so to say. We only have some military checks on the conventional entry points as against more than 3,000 illegal routes into Nigeria from left, right and centre. So what can be done is to make sure all these border routes are policed I think, is another level [of concern].
So these are some of the areas in which the government needs to do a lot of work to make sure that people are safe and arms are prevented into the country, the syndicate is broken, and the cartels, the illegal smugglers, the manufacturers who are aiding and abetting whatever means to make sure that arms fly.
04:43-05:10
You can see [that] it is very easy for illegal groups to get arms in this country. And we can see how [non-state actors] are collecting ransom from civilians to arm and rearm themselves, apart from external forces that are supporting the operations of these illegal groups.
Ahmed Shehu
Leader of the Civil Society Forum in Northeast Nigeria.
Bio: Ambassador Ahmed Shehu chairs the CSO Network in Northeast Nigeria and heads the Peace Ambassador Center in Borno. In this interview, he responds to a series of questions on the issue of gun violence as he shares thoughts from the Civil Society perspective on what gun reform advocacy should look like.
00:00-00:20
The issue of these guns and how we normalise them should also be checked. This will really go a long way towards ensuring that the process [of gun reforms] has become actionable. So, catching them young: kids in schools should learn that guns are not something you need to own and use unless it has become very necessary.
00:21-00:42
I think about sending messages… for instance, we went to a [mall] to buy gifts, and I saw a gun. I wanted to buy it for my kids, and I remembered I am from the Northeast, so I said we don't need this because the trauma that our kids already have is enough.
00:43-01:03
When you go to [IDP] camps now, you will see [little] kids that grew up in the camp designing the shape of a gun. The question is 'where have they seen the original one that they know the prototype fits?' Even in our system, in our cultures, in the way we do our things, 'say no to guns.' Whether for real or as prototypes.
*Mr Dickson
Gun violence victim and anti-gun advocate from South-South Nigeria.
I will not use any other words than to say it is worrisome. The Constitution [...] allows certain persons to carry firearms [...], but we see non-state actors today, very much armed, particularly in the Niger Delta area where I come from. You see all manner of persons carrying sophisticated arms all around.
Not even ammunition of low calibre, what will a man that is not military personnel or certified by law to carry an AK-47 rifle be doing with an AK-47 rifle?
But today, in our environment, an AK-47 rifle is more or less like a cotton bud or chewing stick. It is really worrisome. If you go to communities, even in the city centre, people are armed left, right and centre.
I was at a place over the weekend [...] what I saw to me is an eyesore, the play I'm talking about is here in Niger Delta, within the Rivers State axis.
In a community in one of the [...] islands where I went to, I discovered that non-state actors were fully armed in a camp, and before you get to that place, you will see a [Joint Task Force] JTF headquarters stationed in front, and I asked, 'how can one differentiate the official JTF we see carrying AK-47 and these non-state actors also carrying AK-47 within the same vicinity?'
I don't understand. It is disturbing. If the federal government does not do anything to curb this thing, I don't know what else the region will turn to.
Abdullahi Mohammed Jabi
Secretary-General of the International Institute of Professional Security, Nigeria.
Impact
The impact of gun violence is very huge. It is an attempt to assassinate people and destroy lives and property because of the indiscriminate possession of illegal firearms in the wrong hands. It is used to enhance criminal activities in society, thereby reaping people of their livelihood and existence.
This is not too far from the crises happening in African countries, such as Libya, Sudan, Guinea Conakry and others, from where arms have penetrated most West African countries uncontrollably through smuggling, particularly small arms and ammunition.
This is the danger we find ourselves in. And now that Nigeria's election is around the corner, this deadly equipment will be used to cause arms against opponents in one way or the other.
Legislation on gun control in Nigeria
There is a lot of legislation. And there is a lot of Presidential directives to that effect. We have a small Arms and Ammunition Control Commission. I am aware that they just dissolved the board to reconstitute another one. But its effectiveness is not being felt because of poor advocacy and the nonchalant attitude of those involved.
Until we get a very proactive leadership in that commission like we have today in the National Drug Law Enforcement Agency (NDLEA), that is giving results. That is when their impact will be felt.
Should government come out with a white paper on gun control?
Very important because Nigeria is not mature for liberal gun usage by citizens, if not, we will continue to kill ourselves day in and day out. And we will be the worse for it.
So there are legislations, but they should sharpen and strengthen them to make sure that the consequences for those that are in possession of firearms is high and great. In that way, they can deter people from acquiring it illegally to commit crimes and criminality in Nigeria and beyond.
How do we check gun proliferation in Nigeria?
The immigration service that controls the borders post, should do its work. The Nigeria Customs Service should also do its work effectively.
These are the gatekeepers of such items, and the more they do it there will be the result when there is a result those apprehended should be punished or jailed, if possible, they should be given capital punishment of summary execution. That is how to go about it.
How will the Police/security agencies be made accountable for the guns in their possession?
The Nigeria Police have an armoury and data bank of their arms and ammunition, and they take control of it because guns are not just being given to anybody like that they must register the number, and the code, and all the inventories are taken before they are given for use. and if it is stolen in the point of duty, they know how to recover it and they know through whom it was stolen.
And they know what to do. As far as I'm concerned I know that the Police, the army and the Department of State Service (DSS) have control measures in arm inventories, utilizations and adaptations.
Have they been able to check the misuse of guns by their personnel?
In every setup, there are bad eggs. They have been doing their best, but those who want to connive with criminals will always do it, and when they are apprehended they should face the consequences of the law.
Tentatively it is being checked because there is control systems in place: from the stores to the divisions to usage. There is control over it. I am very sure of that. And every arm, including the paramilitary, have control usage of arms and ammunitions because the inventories and the records are there.
There is a report by an international NGO that more than five per cent of arms in the hands of terrorists in Nigeria are gotten from the military and other security agencies during attacks. How can this be stopped?
It is not difficult for this blanket accusation. But the issue remains that those that are in charge of our borders should be held responsible for how weapons come in – either through water, inland waterways, the ports, or lands.
There are police along this value chain who should be held responsible for the proliferation of these firearms into the wrong hands entering the country.
As I said, connivance can not be excused even among the paramilitary or security agencies. So let those loyal and patriotic to the state do their jobs. And the government should give the necessary support to enhance effectiveness in service delivery.
What can be done to reduce gun violence in the country?
We must strengthen our legislation. We must enforce our laws. There must be punitive actions for those that are found in possession of illegal arms and usage. Until that is done to serve as a deterrent we will be in the state we are without results.
ASP Dungus Abdulkarim
Police Public Relations Officer, Yobe state, Northeast Nigeria.
00:00-00:58
This has to do with the strategy of the entire security system in the country. And recently, we have seen those developments from both the military and police.
One of the strategies is the community policing strategy - bringing the community into play when it comes to security by enhancing intelligence-led policing by incorporating the entire community.
And secondly, you can also look at another strategy which is similar to community policing by the military [under] Operation Hadin Kai; it is also one of the important upgrades in the security system of the country.
And I believe if this has a good implementation, we are going to achieve a lot in restoring peace, law and order and giving the communities the confidence to feel safe. That is one.
00:58-02:03
The second thing is that the security [agencies] have been playing their roles perfectly, but they are not liking one or two challenges which recently we are seeing develop in terms of their own demands being fulfilled. One of these [security] challenges is the issue of manpower for both the police and the military.
But as you can see, recruitment is now a thing ongoing yearly both for the police, the military and other security apparatus in the country.
If you can observe, in other states, you can see that the communities are being incorporated through the vigilante groups who work closely with both the police, the military and other security outfits.
02:03
So this will help a lot in ensuring improved security in the whole country, especially where there are confits like the northeast where the insurgency is gradually going down - which, largely is because of the cooperation and the new strategies that both the police, the military have incorporated and is helping a lot as we are seeing the light at the end of the day.
Umar Garba
44, from Gasahula village, Bukuyum LGA, Northwest Nigeria. He is a vigilante group member operating in Bukuyum LGA.
At the community level, we contribute money to buy spare parts necessary for manufacturing guns. We procure guns to protect our communities, including our neighbouring innocent Fulanis people, with who we were born and brought up together.
We invested in a huge farm that belonged to the community and cultivated cash crops, with which we sold the farm produce at the end of the farming year and procured local and 'modern' arms.
Role of guns in inter-ethnic violence
Not all Fulanis are criminals, terrorists or bandits. There are quite many innocent people among them. They lose a lot of life of their loved ones, they lose their cattle to terrorists. We all suffer similar circumstances and share our agony.
Our fight is against the terrorists and not the ethnic group. It is purely self-defence and community protection.
How do guns get to their community?
What we knew initially was that we used to own local guns that could only kill rats, kangaroos or rabbits in our daily hunting at bush areas, but times have changed. We can now get deadly guns that kill people easily.
I have four such guns I purchased from Rijau [Niger state]. We used guns to protect our people and our community and for hunting. With the change and passage of time, we saw criminal Fulanis holding brand new AK47s and other dangerous arms attacking us.
And we knew the Fulanis with such guns. So we finally resorted to buying modern arms for our community protection.
Each house possesses more than ten guns. This is how the number of guns is increasing on our side.
We own and control the guns, and I can produce some. All I need is to visit a welder man and direct him how I want it by style.
With the recent declaration of the Zamfara State government asking the residents to possess guns for community protection, we now all have our guns in almost every house.
This is why the bandits and terrorists are no longer invading our villages. Instead, they [terrorists] diverted to Damri, Gidan-kare, up to Tureta local government area of Sokoto State.
(Name anonymous for security reasons)
Former Militant in the Niger Delta Region (2), South-south Nigeria
This former militant spoke to HumAngle in Rivers State on condition of anonymity. Our conversation starts with him talking about how he was recruited to militancy and how guns move into the Niger Delta region.
The starting of everything was from the street [...]. And after that, it was our activities, our boldness. That was when they introduced us to the river. That the river is more better. You can go to the river and get more [money], instead of us wasting our time on the road, killing, jumping, as all these cult matters.
How guns make it to the region
There are two ways [...] from the democratical way, the political line, and the second one is the exchange of the crude oil [...] that they used to exchange for ammuition. [...] Politics is all about power. These men are [obsessed] with power, and they had to bring arms into the system, and they use it for oppressing.
They oppress by snatching ballot box, by chasing their opponent in the community. When one community [has a PDP stronghold], and the other community [APC, CPC] does not have enough funds, the [CPC, APC] have more funds, so [...] that is how guns [come] into the Niger Delta.
Impact of gun proliferation in the Niger Delta region
Politicians sponsor most of the arms here right now. The political area has turned to a negative impact whereby we use the same guns [to hurt] our loved ones.
We use these guns to chase out investors that are supposed to come into our locality, into our region in Rivers state, Bayelsa, Delta state, to come and invest. With these arms in our hands, it causes confusion, and we don't have investors.
Nobody will like to invest in a war-infested area. Everybody will like to go where is safer and is peaceful. So the impact of guns in our society has caused major negative impacts with development being far away from us.
Barrister J.T. Gunda
Founding coordinator and legal adviser to the Civilian Joint Task Force (CJTF) in Borno state.
00:00 - 00:40
Apart from those in the armed forces who are allowed to carry guns [and] ammunition, you are not allowed to carry ammunition. We have very strong and effective laws in controlling guns. The only thing that needs to be done is strict monitoring to ensure that every person with a gun is allowed by law to hold that gun.
But in every society, definitely, there are some persons who always try to beat the law to make sure that they are not caught. But once you are caught, the long arm of the law will deal with you.
00:43-02:04
We have concrete and effective laws to govern who and who is allowed to carry guns. The only thing is the monitoring that needs to be effective. We must improve on the monitoring aspect.
Let me tell you, at a time in Borno state, during the height of the insurgency, in almost a month, there used to be a cordon and search, and everyone who has a gun, even if the gun is licenced, you must submit the gun to the commissioner of police.
Once you are caught with a gun during the cordon and search being jointly carried out by the armed forces, along with the Poice and the DSS…you will be treated as a person who is not supposed to carry a gun. And you may be branded as a criminal.
02:09-3:13
There must be impromptu checks to make sure that those checks are thorough and effective. And any person caught[violating the law], the law must take its course… the law must apply to all and sundry. Once people see the seriousness in applying the law, then they would naturally comply. The real issue is that everyone knows the position of the law as regards gun control or the carrying of any ammunition. Everybody knows that once you are caught and you are not licensed, then you will be subjected to punishment.
03:15-04:11
The issue now is that a lot of people have been trying to circumvent the law. There are a lot of vehicles coming through major [international] roads that have a way of concealing these arms.
Particularly vehicles coming from Cameroon, Chad and Niger borders. They bring a lot of goods in big trucks, and they ensure that they conceal the arms and ammunition in between the goods that they are carrying.
And there are still lapses on the part of those charged with monitoring these borders. There may be some financial inducement, and they allow these guns, freely to go in. These are the kinds of problems that we have.
04:11-06:00
Apart from that, any person who wants to come in with this ammunition they have various ways. They will not follow through the regular channels, they will go through the bush and come in. Nothing will happen. They have their ways of coming in.
Let me tell you, as part of the CJTF, almost on daily basis, the remnants of the Boko Haram terrorists still try to find their way back into the township of Maiduguri and other towns, make purchases and go back…they may not cause any direct harm, but they do sneak in.
That is why the military and the CJTF, who know this, have developed a strategy of laying ambushes along the major prone areas where these activities are being suspected to be carried out. They normally come in through the axis of Old Airport and its environs, through the Polo area, up to Auno axis, and up to Gubio road.
They take advantage of these locations to come, make purchases, get themselves prepared and then pretend as if they are going to their houses and sneak back to the bush.
They don't come in large numbers but in trickles like two, three or five.
06:00-06:44
So all we need is [for the law] to be strengthened. Once the laws and the borders are strengthened, we will have better gun control.
Not everybody is bad. But you can hardly pinpoint who is bad until when he is caught. The government is trying its best. The leadership of the security agencies are trying their best.
But still, some of them [citizens] will find a way of castigating what is being done. Once somebody decides to be bad or criminally minded, you can do nothing about it.
Amuda
A local gunsmith in Osogbo, Osun State, Southwest Nigeria
00:00-00:32
Firstly, the use of guns is for the protection of human beings who are well-behaved and not 'arrogants'(miscreants). Because… it can defend a person, it can also kill a person. If it is a 'natural' (well-behaved) man that is not an 'arrogant', he may use it for protection, and the 'arrogants' will be afraid of confronting such a person.
00:32- 1:10
If the government can legalise guns with [laws that] back it, it will be responsible for many people. Especially if we look at what guns are like in America; some people use it, and people have different uses for their guns.
If legalised, we won't have [kidnappers], touts, thieves, and they will be afraid of what is in our hands because there is nothing we are afraid of than the guns in their hands.
If we stand face-to-face, many of them [criminals] won't stay. But once they see guns… after God, it is guns.
01:15-02:33
If the government can make it (the regulation), it will be good for the protection of all Nigerians. We have hunters who come to us to make guns for them. Historically, hunters are the first line of defence, before vigilantes and then members of the Odua People's Congress (OPC).
The protection of local communities is in the hands of local hunters, and we make guns for them.
If Nigeria can allow it… although guns are scarce and expensive, especially the English-made if Nigeria can allow blacksmiths… there are very smart blacksmiths, and if the government can approve them, they will develop their knowledge.
With N15,000 to ₦17,000, you will get a local [dane] gun. A single barrel long range is sold for about ₦25,000 to ₦30,000.
Amitolu Shittu
Field Commander for Southwest Security Network, 'Operation Amotekun', in Osun State.
The military government opened our gate to corruption, bringing all the vices we see today. It encourages our youths to go into violence. The youths have no standard education, so they go into criminality and have access to purchase guns. It is not a new thing. The moment we allow it to happen, it is difficult to control it.
You recall the number of guns submitted when Yar'adua gave amnesty. Do you think they all surrender? When you give people education, they will see that owning a gun is not the best.
The government is not investing in our youths, and an idle hand is a devil's workshop. Do you know the number of guns in our universities? This is what our lecturers are breeding.
Do you know the number of students we have caught with guns? There are lecturers involved in cultism. In some cases, their parents are aware. Our people should not destroy our education.
The government must partner with Amotekun, and the police must be well-orientated because they are recruiting too many criminals.
There is a need for social security, and we can use the BVN to correct this. Nigerians are hungry, they need employment. If they don't have employment, they will resort to criminality, which social security will help address.
We can recruit the blacksmith people. It shows how genius they are, and we can be on the committee of nations that produce ammunition. It will help us to generate more revenue, and they will improve over time.
Hum Wonosikou
Press Secretary to the Adamawa State Governor.
This administration came with a clear mandate. Before now, the crisis that has bedevilled Adamawa had kept everyone on their toes, and there had been suspicions amongst the people.
When the current administration came on board, it did not come with just marching orders; it came with legislation, it came with support - by way of provision of vehicles, by way of provision of motorcycles, by way of provision of resources that will help the security agencies carry out their duties responsibly.
DSP Sulaiman Nguroje
The Police Public Relations Officer in Adamawa state, Nguroje.
00:00-01:18
Police, the agency responsible for protecting lives and properties, operates within the context of the law. We have it categorically clear that firearms are being segmented so that if one wants to have one, there must be a procedure.
We have what is called prohibited firearms. Prohibited in the sense that no single person is entitled, for whatever reason, to bear such firearms. Then we have personal firearms that can be carried by anyone who meets certain criteria to bear one, and such persons will go about having a process that you must scale through, with adequate recommendations from recognised individuals and then approval from the commissioner of police.
01:18-02:45
Firearms are now too many in the hands of people in the communities, and it is being used to commit various violent crimes in society. The command in Adamawa state is always frowning at the situation. That is why we complied with the directives of the Inspector General of Police by calling on members of the public to submit the firearms in their hands to the public armoury believing that it would reduce the rate of crimes that the public is experiencing.
We see the effects as regard that a lot of people are dying day and night as a result of people using firearms in the course of hunting, resulting in the killing of lives. Some people are suffering fatal injuries as a result of misused firearms. And the firearms handlers are not trained in such a way that they carefully use the firearms, they don't even know the rules guiding firearms.
They always point at targets they don't intend to destroy, and they don't usually put their fingers off the triggers, resulting in the loss of lives of members of the public.
Fifty-year-old Sa'adatu Abubakar's husband, Abubakar Maishanu, was sleeping when terrorists attacked their home in the Maishanu village of Niger State. Disabled on one leg, he would beg Sa'adatu to run away with the children and leave him behind.
It was the last time she saw him alive.
[Audio of Sa'adatu talking]
[I believe this will stop if the government can control people from holding guns. You see, many of them are young boys, if they do not have these guns, they will be powerless. People can even bring them down with bare hands. But with the guns in their hands, you will see older people running away from somebody young enough to be their child or grandchild because he is holding a gun.]
As the terror sun set on Sa'adatu's household, it rose on Maimuna Salihu's in Magami, also in Niger state. Like Sa'adatu, the gun-toting terrorists had met her husband at home. Like Sa'adatu, they left with Maimuna's husband's life.
[Audio of Maimuna talking]
[We are ready to go back to our community if security personnel can defeat the bandits. And they can only do that if they are given the right weapons because the kinds of firearms in possession of the bandits are not small ones. They are not using the ones that will fire just once and go silent. They go sporadically, and that is how they kill plenty of people nonstop. The guns in the hands of our security personnel are no match to those of the bandits.]
Sa'adatu and her children struggle in the absence of their patriarch. Likewise, Maimuna and her children all live with the trauma of watching their provider's murder while struggling to make ends meet.
The death of both men is a footnote to a bigger problem in Nigeria that's barely spoken about: gun violence.
Nigeria has a gun violence problem. This may not seem as obvious as in the United States, where mass shootings are recorded often, but it is almost as pressing.
Over the past few years, arms proliferation — especially after Libya's fall, leading to the country serving as a route for small and light arms across the Sahel and Sahara — continues to rise.
With different levels of insecurity in Nigeria, the spread of these arms has contributed massively to gun violence, with most either unreported or underreported. 
Perhaps more striking is that this call for attention to Nigeria's gun violence, especially small arms and light weapons (SALW) like pistols and rifles, is not new. 
Getting accurate data on local gun violence is almost impossible due to underreporting. "The homicide rate, for example, is reported as only 1.5 per 100,000 but is likely many times greater," one research study noted.
"Although 30 per cent of Nigerians report having been a victim of crime in the past year, only 25 per cent of these crimes are reported to the police."
The paper added that there'd been a significant increase in gun violence, gun-inflicted injuries in urban areas had increased "as much as 1o-fold", most murders were committed using small arms, and more people were using private security as well as carrying arms for personal protection.
The issue of arming up for self-defence remains pressing to this day. We have seen a state governor ask citizens to arm themselves against terrorists, a defence minister advocating for civilians to pick up guns, a national security adviser making a case for more guns for self-defence, and so much more. But this is only a fraction of the problem.
In 2016, the United Nations said 70 per cent of 500 million illicit weapons in West Africa are in Nigeria. A 2017 report compared the number of privately owned guns in 206 countries; Nigeria was 16 on the list.
Gun Policy, an NGO observing arms globally, mentioned in a 2016 report that "unregistered and unlawfully held guns cannot be counted, but in Nigeria, there are estimated to be [between] 1,000,000 to 350,000,000."
"As long as security challenges maintain the current crescendo, Nigeria's gun problem is an inexhaustible topic," NexTier SPD observed in 2021.
"It is hugely portrayed in the armed conflict in the northwest and northeast zones and the unceasing gang wars in the southern region.
Access to guns remains a key contributive factor to violence and conflict around the world, including [in] Nigeria. The abundance of guns means more violence that leads to deaths, loss of livelihoods and forced displacements."
One would think that the gun problem is limited to non-state actors, but state actors (Police, Military, Civil Defence, Department of State Security, and others) have also been known to be negligent, unaccountable, and often malicious with gun use.
The 'Gun Violence in Nigeria' report mentioned as part of its findings that security agents frequently use small arms to maintain order with little concern shown about civilian casualties.
"The rules governing their use of firearms are extremely permissive. Police may use guns in almost any circumstance with impunity.
The police motto until early 2005 was 'Fire for Fire,' earning them the monikers of 'kill and go' and 'spray and pray' … A 2003 study in Ilorin found that after armed robbery, the police were the second most common cause of injuries due to [small arms]."
Recent evidence of this is the extra-judicial killings by the Police, especially those attached to the Special Anti-Robbery Squad, leading to #EndSARS protests in Nigeria. Yet, these killings have not ceased.
–Edwin, Police gun violence victim. Video by Adejumo Kabir, Lagos, Southwest Nigeria/HumAngle.
Guns in Nigeria can be found almost everywhere. They are a prominent part of insurgencies, militancy, banditry, armed robbery, kidnapping, and cultism.
The use of unlicensed firearms by civilians is a source of worry, especially for the authorities. But equally pressing is how the Police and Army lack accountability for the weapons provided to them.
Nigeria has been ripe for gun control laws that exit papers into practice. And this needs a conscientious approach which can only be tackled by looking at how all the guns in Nigeria pass through skilled and unskilled hands to kill many Nigerians.
While laws like the Firearms Act exist, the reality of gun proliferation is best heard from victims and perpetrators (state and non-state actors). This is the point of HumAngle's Coat of Arms report; to show what guns mean to different people across Nigeria.
"I am using the gun for security purposes," an Eiye confraternity leader who calls himself Stone tells HumAngle at the group's hideout in Ogun state, Southwest Nigeria.
"I have had a gun for more than 15 years, but I hardly ever take it out. It's been seven years since I used it to harm anyone," Stone adds.
Nigeria's Firearms Act prohibits indiscriminate gun access and outlines how gun licences can be obtained. But that is not a concern for the Eiye man as he insists that "even if there is a ban on guns, I will still carry guns."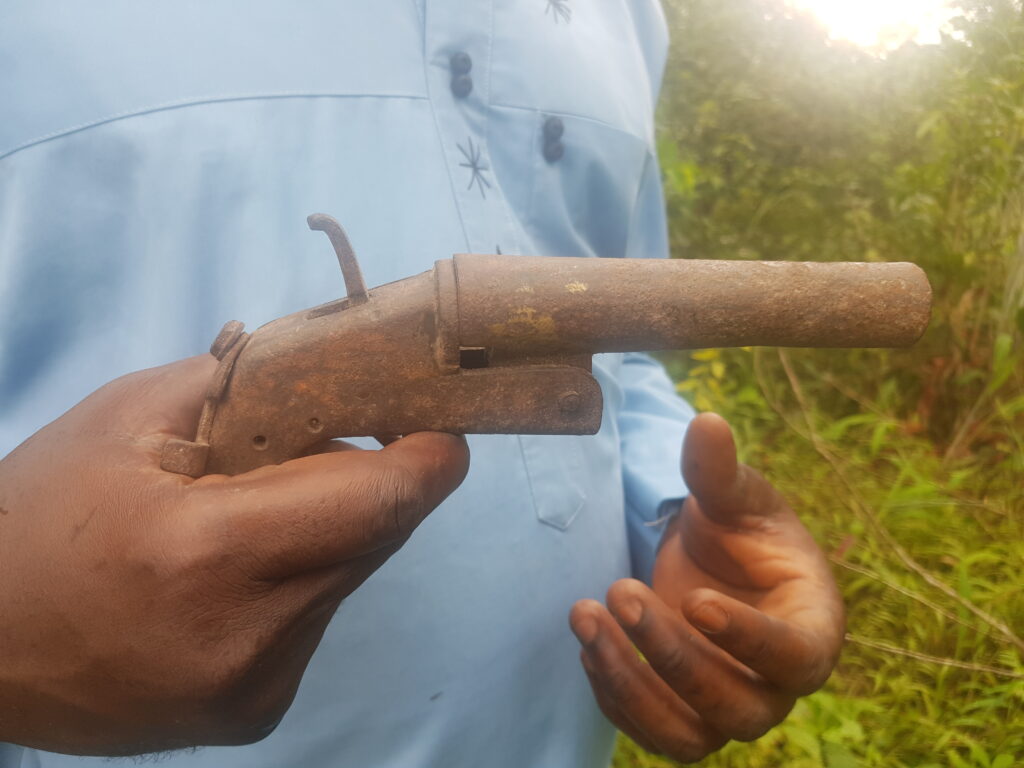 Mallam Sanusi, chairman of a local vigilante group in Zamfara, Northwest Nigeria, defends gun usage by arguing that the community "struggles and looks for arms to protect ourselves just like how the terror group also scrambles for the firearms to kill us.
We do not fear the terrorists because we rise to procure deadly arms and repel attacks."
Gun ownership for them is about survival. And it seems to be working so far.
"Any village or community known to have procured firearms, that community can hardly be attacked by the terrorists," he tells HumAngle proudly.
Throughout this investigation, we learned from local gun makers and users that it costs about ₦60,000 ($138) to get a pistol gun in Southwest Nigeria and between ₦3,500 ($8) and  ₦700,000 ($1,610) to get guns for self-defence purposes in the Northwest. And if you cannot afford one, you can get guns for hire.
While the Firearms Act prohibits the transfer of licensed guns, unlicensed guns made by local gunsmiths have a growing economy.
But while some have faith in the power of guns to protect, many do not. Jummai is one of them.
Jummai is a humanitarian worker who recently escaped from Islamic State West Africa (ISWAP) terrorists in April this year after spending 18 months in captivity.
She has seen a gun at a threateningly close distance and has seen guns repeatedly deployed throughout her abduction in the Northeast. She permanently lost some of her hearing because of gunshots fired close to her head.
She believes that "if holding guns would make people safe, I think the military personnel would be safer than anyone else; rather, they are the victims. So I don't feel safe because someone is holding a gun."
Although her work provides her with the occasional safety of travelling in a convoy, Jummai feels safer when she is not in a cluster of gun-wielding people, whether acting for the state or not.
The need for guns, or dislike for it, ranges across Nigeria's regions and is based on the intensity of the security infrastructure. In Kaduna state, which reports pockets of violence from time to time, Civilian Joint Task Forces (CJTF) are arming up to protect their homes from terrorists.
A CJTF member identified simply as Godwin tells HumAngle that the volunteers covering the Chikun Local Government Area (LGA) get support from the Police and Military to tackle insecurity.
This was necessary because "bandit attacks are always carried out with the help of informants who point out certain houses."
To co-opt local intelligence, the CJTF was mobilised – successfully, so far – "by issuing pump-action and cartridge," the type of gun permitted by Nigeria's Firearms Act for licensing.
But there is a problem – which still seems elusive to Godwin and perhaps the system – that we observed from Godwin's comment: "Some JTF are paid, like in Maiduguri, but we in Chikun aren't paid. The police sell guns. Bullets used to be ₦500, but now they sell at ₦1,500."
Community protection is essential and might as well be voluntary, but for people who, according to Godwin, were given sufficient training at the police college and issued AK47s, there is a foreboding of future gun violence.
Across Northwest Nigeria and especially in Kaduna state, reprisal attacks orchestrated by ethnic profiling from armed vigilantes (locally known as Yan Sakai) are one of the leading drivers of gun violence in the region.
Godwin mentions that "every unit has an office. We are in Unguwan Sunday. So the rule is that each unit that needs guns is supposed to go to the police station and request. There are armourers who make such supplies. The police give us licences, so we hold our guns freely".
The Police have struggled to keep their guns safe, accountable, and strictly for the right purposes.
In 2022, a probe revealed that Nigeria Police could not account for 178,459 guns, including 88,078 AK-47 rifles, 3,907 assorted rifles and pistols across different police formations. This lack of accountability is a leading driver of gun violence in Nigeria.
For instance, Emma, who was shot by Policemen in Oct. 2020, believes that "the way Nigeria police handle guns is bad. These guns are not meant for individuals like us [civilians]. They should train them well on how to handle guns."
Still living with the impact of gun violence from a state-licensed firearm, Emma, a Lagos, Southwest Nigeria resident, says, "once I see a gun, I shift from the place because I know how dangerous it could be. I don't even stay close to guns anymore."
The problem with gun violence is that the bullet's impact does not stop with its victim, the burden is often shared with their friends and relatives. Families lose breadwinners and support systems and live with the trauma for the rest of their lives.
In Emma's case, he says, "It was not easy for me because my job was put on hold because of COVID-19. I came to Lagos to hustle, and they shot me. My office terminated my contract, and things have not been moving well for my kids and wife."
Following the guns to South-south Nigeria, where pockets of inter-gang wars, militancy, and other criminal activities are running, one wonders to what extent the amnesty programme started in June 2009 by Late President Umar Yar'Adua has been successful in disarming the region.
The programme claims to have disarmed at least 30,000 people who had previously resorted to arms to 'fight' to protect their homes from the environmental disasters occasioned by oil mining and abandonment by the government.
Conversations with militants, ex-militants, and even security personnel, who mandated anonymity for the protection of their lives, show that guns are still very present across the creeks, towns, and cities of Nigeria's South-south region.
In the Southeast, gun violence permeates the streets in the form of secessionist agitators who are members of the Indigenous People Of Biafra (IPOB) group along with their militant wing, Eastern Security Network (ESN).
Security Forces Arms Data
An interactive map showing data on arms retrieved by security forces across Nigeria over a one year period. Design by Damilola Lawal.
As arms proliferation spreads in the region and attacks rise – often from guns stolen by armed militias from security operatives – the Police are being attacked by ESN, the Southeast Security Network (a security group formed by governors) visits gun violence on residents, who already face recurrent gun violence from ESN/IPOB.
Across Nigeria's six regions, the presence of guns, regardless of the owner, correlates with rising violence. The more guns a region has, the more violence it is likely to experience.
And the guns are all around us.
When Nigeria's rising gun violence question comes up, the first culprit, especially in the past decade, has been the Nigerian border. It was unsurprising to hear J.T. Gunda, a legal practitioner and founding legal adviser of a youth vigilante group (CJTF) in Borno, reference the same problem.
"Everyone knows the existence of gun laws, but the issue now is many people coming through the major international roads have a way of concealing these arms," he tells HumAngle in Borno, emphasising that "particularly those vehicles coming from Cameroon, Chad and Niger borders; they come in with a lot of goods in the big trucks and they ensure that they conceal the arms and ammunition beneath the luggage."
Gunda also believes that border security is constantly oiled by corruption and inducement, making it even easier to smuggle guns into Nigeria. But even if inducement was not a challenge, the gun smugglers have multiple routes.
"Any person who wants to come in with illegal ammunition will not follow through the regular channels, they will go through the bush to come in, and nothing will happen. They have their ways of coming in," Gunda says.
Border porousness aside, there is more than one way to get a gun in Nigeria. This is where people like Amuda come in. Amuda is a local gunsmith in Osun state, Southwest Nigeria, and has made guns for different people over time.
He tells HumAngle with a flint of pride in his eyes, "We have hunters who come to us to make guns for them, and we make for vigilantes and members of Odua People's Congress (a prominent vigilante group in Southwest Nigeria).
Although English-made is expensive, some brilliant gunsmiths can make great guns. With ₦15,000 ($34), you will get a local gun. A single barrel long-range [can be bought] for ₦25,000 ($57)."
Amuda thinks of himself as some saviour who is providing help to helpless people from bullies. He tells HumAngle that "the use of guns is for the protection of humans.
It may be used for protection but not good for 'arrogants' (a name he calls bullies and criminals). It would be great if the government could legalise guns as we have them in America. If legalised, 'arrogants' will be scared of other citizens. If legalised, we won't have kidnappers. Guns have power.
"After God, it is guns," he proclaims.
Like other unregulated industries, the economy of gun manufacturing and sales is difficult to analyse because it is mostly run by illiterates who barely keep a formal account.
But one can assume, based on the rising trend of locally made guns seized by the Police and the military, that it is a booming market.
As gun proliferation increases, experts are worried.
Prof. Mahfouz Adedimeji, the Vice-Chancellor of Ahman Pategi University and former Director of the Centre for Peace and Strategic Studies at the University of Ilorin, explains that gun proliferation will only lead to more deaths and not more protection.
"I did a study a few years ago in which I canvassed the need to secure weapons and not to weaponise insecurity. What I meant is that instead of throwing weapons at insecurity, what is needed is to secure weapons from falling into the hands of non-state actors and focus on human development.
"In other words, we should provide employment and guarantee citizen's economic security; we should make food available and have fewer hungry and angry citizens; we should provide affordable health services so that people are no longer emotionally charged as a result of losing their loved ones to avoidable health challenges; we should protect the environment against diseases; we should attend to the welfare and personal needs of the people; we should guarantee community security, and we should remove toxicity from politics, detaching it from religious and ethnic sentiments.
It is by doing these that we shall reap their multiplier effects in fruits that will produce the vitamin for a safe and secure country."
If more guns are the problem, what is the solution?
Nigeria has not turned a blind eye to the gun violence problem it is facing.
Apart from the several government regulations regarding the use of firearms and the criminalisation of their possession, the Nigerian government, in May 2021, established the National Centre for the Control of Small Arms and Light Weapons (spurred by Article 24 of ECOWAS Convention on Small Arms and Light Weapons).
The National Coordinator of NCCSALW, Major General AM Dikko (Rtd), had said in 2021 that he intends to "position the Centre in light of prevailing insecurity caused by [the] wanton circulation of illicit arms in the country through its vision, mission and core values to promote an illicit arms-free society."
While it might be premature to judge the centre's success, barely much has changed since its establishment.
The centre's establishment shows a promise on the government's part to curb this growing gun violence through various means. One thing that is perhaps most pressing, however, is the government's ability to enforce its mandates.
Ahmed Shehu, leader of the Civil Society Forum in Northeast Nigeria, when asked about gun reforms in Nigeria, explained that "gun reforms or control laws can only work if the government demonstrates a positive will and seeks the buy-in of all the stakeholders. It is one thing to have the paper on reform and another to see that it is implemented."
"This is because if there is no political will, things don't work. There will be great ideas that won't see the light of day. But for this, I think it is an issue that affects everyone, and it will go a long way toward having a white paper," Shehu concludes.
What about security personnel?
A member of the anti-cultism unit in Delta state, South-south Nigeria, speaking anonymously with HumAngle, emphasises the need for government to retrain security personnel, equip them, and make them more accountable.
The Police Public Relations Officer (PPRO) in Adamawa, Northeast Nigeria, ASP Nguroje, bares a similar recommendation. ASP Nguroje thinks for the government to achieve successful gun control, it must empower the police so that "it should be able to build a strong barrier between the public and firearms."
"And at the end of the day, the government would be called upon to see the reasons why they have the responsibility of protecting lives and property; and that responsibility should not be shifted to the members of the public to the extent that they will not be going about carrying arms and protecting themselves.
"What is expected of the government is to give the security agencies the maximum support, the cooperation needed, to protect the citizenry."
But the Police and other military personnel are also guilty of perpetrating gun violence. What then happens to them?
Human rights lawyer and anti-police brutality advocate Oke Ridwan, who resides in Lagos, tells HumAngle that "such officers should never be allowed to hold a gun or wear the uniform again. Because if you abuse your gun, there is a likelihood that you will do it again when you are not punished.
"They should be tried and dismissed from the Force. The court must ensure that justice will prevail."
While state actors have growing roles to play in eradicating gun violence, citizens are not exempted from bearing responsibility.
Prof. Adedimeji believes that is even the starting point.
"Children should be taught that violence is wrong and ungodly. A simple strategy is to have a policy that you don't beat your sibling, you report him/her. You don't expose children to violence in the guise of entertainment in games, sports and movies," he suggests.
"Apart from the family, the school also has a role to play and teachers should lead by example. Violence begets violence and teachers should, just like parents, not introduce students to materials that glamorise violence. This is why cultism must be extirpated from the school system."
A gun-safe Nigeria is a thriving Nigeria; it is a Nigeria that can begin to heal from years of non-stop warfare across all its regions.
Kwaji, a gun violence victim and survivor, elicits this hope:
"If the government can enforce a workable gun control that will take away arms from the hands of criminals, I will be ready to forgive and forget all that used guns to harm me and my family. I will forgive them as humans and let God be the judge.
No amount of revenge on death will bring back the other life that was taken. Let's leave everything to God. All judgement ends before God almighty.
"I know we will have absolute peace and safety if guns are controlled. If I am told there are no more guns, I won't spend this time in the [IDP] camp because I'll be heading back home.
At home, we have the leverage of space to farm, fish, and eat good food and drink whatever we like. We used to have a thriving business at home.
I had my shops which are filled up with wares to sell. But here we are, working as labourers on other people's farms before we can eat. So, nothing compares to peace."
Written and produced by Muhammed Akinyemi.
Reporters: Adejumo Kabir, Godson Etete, Abdulkareem Haruna, Abubakar Abdullahi, Nathaniel Bivan,

Bologi Musa Umar, Muhammed Akinyemi.
Creative Director: Muhammed Akinyemi.
Editors: 'Kunle Adebajo, Hauwa Shaffii Nuhu, Andrew Walker.
Multimedia production: Khadija Gidado, Anthony Asemota, Hawwa Bukar.
Web design and production: Attahiru Jibrin.
Data analysis and visualisation: Isaac Oritogun, Damilola Lawal.
Executive producer: Ahmad Salkida.
No part of this publication may be reproduced, distributed or transmitted in any form or by any means without proper attribution to HumAngle, generally including the author's name, a link to the publication and a line of acknowledgement.